Have your air duct cleaning done by actual HVAC experts!
We take duct cleaning to the next level...all at the same price as the carpet guys!
WANT YOUR AIR DUCT CLEANING DONE BY CARPET CLEANERS AND MAIDS OR BY ACTUAL HVAC GUYS?
When you can engineer, fabricate and install duct systems as easily and as well as Custom-Air, Inc. cleaning them comes very easy. We know duct systems. Air duct cleaning is an important part of your families health so it's important to us! Your ducts will not just be clean, they will be brushed and evacuated by a negative air machine. They will have the most trusted and sold air duct cleaning equipment available...the Rotobrush AIR+ machine. We will run our duct camera through your ducts to make sure we got every spec! We will disinfect and check for leaks and insulation issues that can cause your efficiency to drop. We will check your furnace and AC system operation and air flow. All this is done for the same price as the "duct cleaning only" guys and "carpet cleaning guys" trying to act like duct experts. Don't be fooled by the ones that come out and simply vacuum out your air ducts, get it done right by legitimate duct experts. Duct cleaning available in Albuquerque, Rio Rancho, Corrales, Bernalillo, Edgewood, Los Lunas, Belen and Placitas. Call today for a phone quote!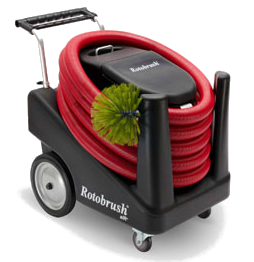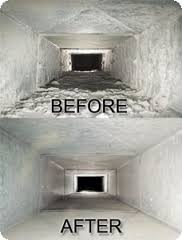 Video Inspection Equipment
With today's high energy cost, we at Custom-Air like to look for ways to save money on heating and cooling bills. It was a big decision for us, but we went ahead and added duct cleaning to our business. It not only makes our customers system fresh and clean, it allows us to examine the whole system. Not just the seen the unseen as well. There are times when only a camera run through the duct system will show leaks that can make a difference on an energy bill. Video inspection equipment along with a good duct cleaning can give you and your family peace of mind for both the air you breathe and the money you spend on energy. So let us check and clean your entire system from top to bottom. You'll get real mechanical contractors instead of carpet cleaners and vacuum guys.
Duct fogging kills mold and all kinds of fungus and bacteria. No harm to humans or pets, non-toxic.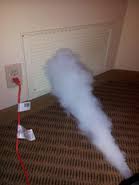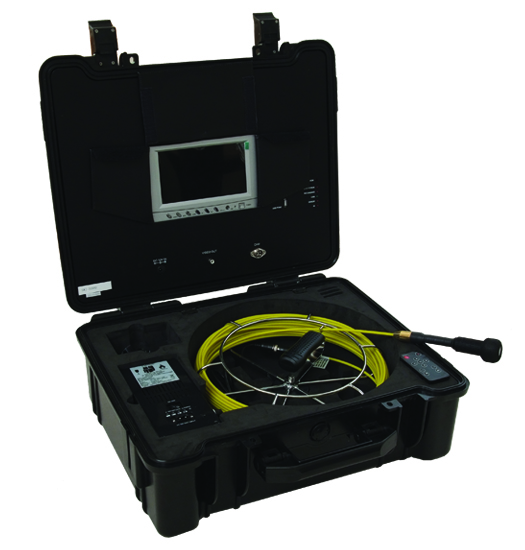 Important information for homeowners with refrigerated air
It is important to note that no system is clean just because you had your ducts cleaned. Air travels through your home, into the return where the blower wheel picks up dirt small enough to get through the filter. Some sticks to the blower wheel and then to the evaporator coil. Most refrigerated air systems cannot be called completely clean unless the coil is removed. Just sticking a vacuum wand into the coil cannot get all the debris, will just "push" dirt further into the coil causing efficiency issues and will damage the very delicate aluminum fins. The refrigerant must be pumped down per EPA guidelines and the coil removed to be completely cleaned. This is information most duct cleaning companies do not want you to know or they just plain don't know. The refrigeration lines must be cut, welded back, nitrogen leak tested and the refrigerant released from the pump down. This is a process that requires technical abilities not to mention an EPA license, a Journeyman refrigeration license and a mechanical company licensed to do this work. Custom-Air, Inc. will not only clean it right, we will do it at the same price as the "duct cleaners".